The South African National Space Agency (SANSA) came into being in December 2010, but South Africa's involvement with space research and activities started many decades earlier with helping early international space efforts in the second half of the 20th century, and observing the Earth's magnetic field at stations around Southern Africa. On April 1, 2011; the Space Agency started full operations making it the 8th year anniversary of the Agency. In the 8 year period, the agency has grown to become a strong force in the African Space Industry.
SANSA was created to promote the use of space and strengthen cooperation in space-related activities while fostering research in space science, advancing scientific engineering through developing human capital, and supporting industrial development in space technologies. The research and work carried out at SANSA focuses on space science, engineering and technology that can promote development, build human capital and provide important national services. Much of this work involves monitoring the Earth and our surrounding environment, and using the collected data to ensure that navigation, communication technology and weather forecasting services function as intended.
In celebration of SANSA 8th year anniversary, we are celebrating one of its board members, Ms Lumka Msibi. In a dispensation where we are encouraging more women to pursue career in space, Lumka Msibi is an inspiration to many across the continent.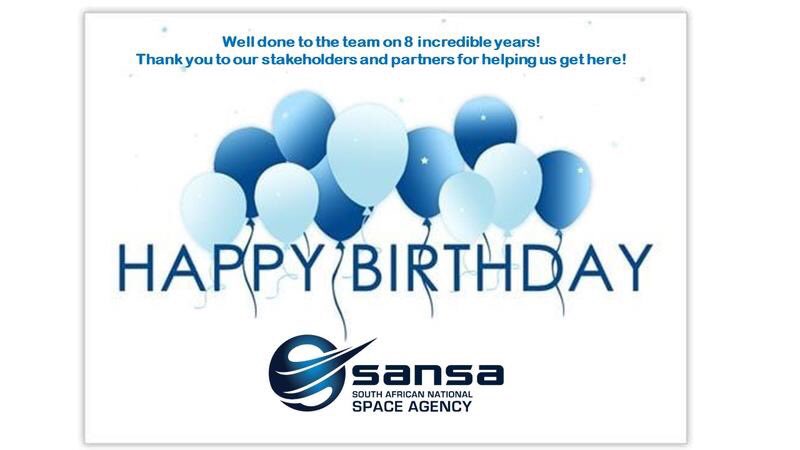 Ms Lumka Msibi is an innovative, award-winning qualified rocket scientist and a Senior Aerospace Systems Engineer with over 5 years of global experience, with a BSc in Aeronautical Engineering from the University of the Witwatersrand and a Certificate in Aerospace Studies from the University of South Australia and International Space University (Australia).  She has held various positions in a major aerospace company in South Africa and at NASA in the USA. At the age of 24 she had travelled to all six continents, won numerous prestigious awards and spoken alongside many notable leaders. According to SANSA, as the youngest board member appointed by a South African Minister across all government entities, Msibi brings a unique perspective to the board. She provides knowledge and expertise in engineering, strategy, innovation and technology.
The 28 year old former Denel employee has received South Africa's highest award for young ambassadors who promote a positive image of the country. She received the Ubuntu Youth Diplomacy Award at a banquet hosted in Cape Town by the Department of International Relations and Cooperation and attended by former Pres. Jacob Zuma. It recognised her contributions "to promote South Africa as a dynamic country which creates an environment where youth can thrive and help to make the world a better place."
Born in Soweto, Lumka matriculated from the Parktown High School for Girls as one of the top ten achievers in Gauteng in 2008. With a bursary from Denel she then studied for a degree in Aeronautical Engineering from the School of Mechanical, Industrial and Aeronautical Engineering at the University of the Witwatersrand. During her internship at Denel Dynamics, the division in the defence group responsible for advanced technology in the fields of missiles and unmanned aerial vehicle systems, Lumka was offered the opportunity to participate in a mission to Antarctica.
In November 2013 she joined the Summer Relief Voyage which travelled to the southern edge of the world to replenish the South African team at the Antarctica Expedition Base (SANAE). During her time on the icy continent Lumka participated in the upgrade of the Super Dual Auroral Radar Network (SuperDARN) at the research base, SANAE IV. This installation is used to monitor the dynamic space weather and serve as an early warning system for satellites by analysing solar activities. On her return to South Africa Lumka joined Denel Spaceteq as a Structural Engineer. Spaceteq is the group's space engineering unit which is responsible for projects such as the development of an earth observation satellite, the EO-Sat1.
She has since moved on to many greater achievements, winning multiple awards and working on amazing space projects. Some of her notable achievements include:
NASA Aerospace Engineer Fellow — California, USA
Award Winning Rocket Scientist
Founder of a Technology startup
Pitched Tech startup to venture capitalists at Oracle HQ in Silicon Valley and it was awarded seed funding
Innovative designer of advanced high performance, world class satellites to benefit Africa.
Selected nationally to do scientific ground breaking research in the coldest place on earth — Antarctica
Worked on a NASA project launching experiments
Global Speaker on 6 continents
At the age of 24, received South Africa's highest Award for young people — The Ubuntu Youth Award.
Won 1st Prize out of 500 international entries in a global technical conference competition (Canada)
Recipient of numerous prestigious International Awards from Asia, Australia, North America etc.
The Authority on News, Data and Market Analysis for the African Space Industry.